Ontario to break up Peel Region in 2025, but mayors signal it could be a nasty divorce Social Sharing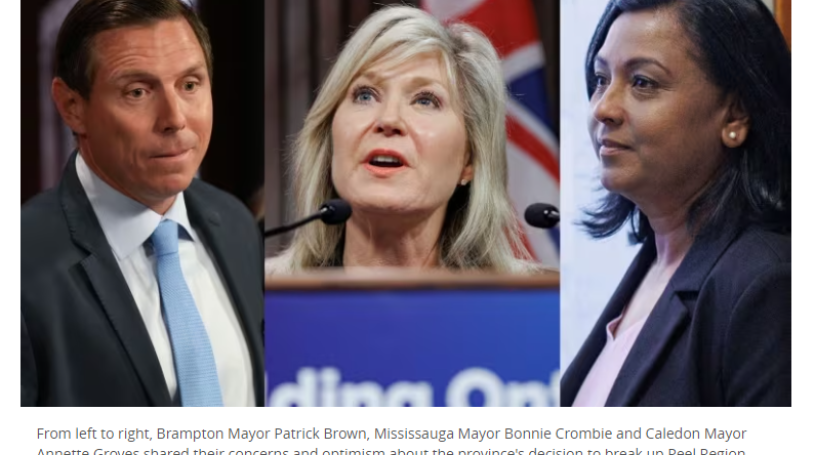 Peel Region will be dissolved at the start of 2025, the Ontario government says, though key questions remain about what shape the breakup will ultimately take.
Municipal Affairs Minister Steve Clark tabled legislation Thursday that will begin the process of restructuring Mississauga and Brampton — the third and fourth largest cities in Ontario — and the Town of Caledon into independent municipalities.
Clark announced the bill at a news conference alongside Mississauga Mayor Bonnie Crombie and Brampton Mayor Patrick Brown. 
Speaking at Queen's Park Thursday, Clark said Peel region, which is already home to 1.5 million people, will grow by half a million people in the next two decades and that those people will need homes to live in.
"To build these homes to the scale and speed that is required, the people of these three municipalities will need local governments that are not only nimble but efficient enough to get that done," he said.
The bill has been dubbed the Hazel McCallion Act, after the former mayor who served Mississauga for 36 years. McCallion died in January at the age of 101.
Clark said the province wants to give the mayors of Mississauga, Brampton and Caledon the same "strong mayor" powers that have been given to mayors in Toronto and Ottawa. The powers allow mayors in those cities to propose bylaws and pass them with the support of one-third of councillors.
It's possible the three locales might still share some services following dissolution, Clark said.
Asked if Peel police could be among them, Clark said that will be up to the mayors and transition board.Mayors differ on details of a fair dealAs for the financial fallout of the break-up, the mayors of Mississauga and Brampton have signalled there could be a battle over exactly what a fair deal might look like.
Crombie has long pushed for an independent Mississauga and called Thursday a "historic day." Brown has said there are "some legitimate, real advantages" in eliminating the second layer of government at the regional level. 
WATCH | Patrick Brown says Ford promised Brampton will be 'made whole':
Brampton mayor: 'We need to be made whole' for Peel Region infrastructure
20 hours ago
Duration0:40
Mayor Patrick Brown says he wants Brampton to get financial support for key infrastructure it helped build in Peel Region.
Ealier in the day, Crombie told CBC Radio's Metro Morning she doesn't want her city's tax dollars being spent building out Brampton.
"I asked that our tax dollars continue to be invested in our city for our growth and infrastructure, our programs and services," Crombie later said at the news conference.
But Brown disputes Crombie's numbers, with each mayor relying on conflicting audit reports from two different firms that explored the costs and challenges of breaking apart Peel Region.
"Every single cent we put in to build that infrastructure in Mississauga, my residents expect back," Brown said at the news conference. 
WATCH | Bonnie Crombie, Patrick Brown both say their cities helped finance the other:
Can the mayors of Mississauga and Brampton work together? Here's what they said
20 hours ago
Duration0:56
Mayor Bonnie Crombie says she 'looks forward' to opening the city's books to see how much Mississauga paid for Peel Region infrastructure. Brampton mayor Patrick Brown says the city will be watching the transition process 'very closely.'
Brown said his city's consultants say the cost of replacing the water treatment and waste water facility currently in Mississauga would cost Brampton a total of $4 billion.
Brown said if Brampton isn't "made whole" it would be "catastrophic" for property taxes in the city.
Crombie suggested it's Mississauga that needs to be made whole for the contributions it's made while Brampton and Caledon grew.
Asked about Brown's concerns that Brampton deserves financial support for the infrastructure it has helped build in Peel, Clark said he thinks a deal will come that works for all three municipalities.
"The transition board will deal with financial matters, we believe there are good quality municipal services being delivered equitably and fairly now," Clark said during the news conference.
Crombie too said she believes a deal can be worked out amicably.
WATCH | Caledon Mayor Annette Groves is optimistic about the process:
Caledon mayor says she's confident Peel Region 'divorce' can work for all residents
21 hours ago
Duration1:46
Caledon Mayor Annette Groves says her community is the 'child' in the Peel Region split, but has 'every confidence' that all of the region's residents will be looked after in the end. 'I had a great divorce, I didn't even use a lawyer,' she told reporters.
Annette Groves, mayor of Caledon, also said she believes everything will be worked out.
"It isn't something that we wanted, but at the end of the day, we're here with this decision today and I think we just have to work with it and do the best we can," Groves said.
Province to consider if other cities can stand alone
The province has appointed a five-member board to steer the transition.
Its job will be to provide recommendations for a dissolution process that "respects taxpayers and protects existing services," according to the provincial presentation.
Local services are anticipated to continue uninterrupted across the region in the meantime, officials said.
The government also plans to appoint regional facilitators in the coming weeks to explore whether the constituent cities and towns of the following regions could stand independently:
Durham.
Halton.
Niagara.
Simcoe.
Waterloo.
York.
For Durham Region's part, there have been no concerns raised about its size or structure, regional chair and chief executive officer John Henry said in a statement. Henry said the eight local municipalities in that region work well together to serve residents through service delivery. 
Board to oversee local decision making
In a presentation outlining the details of the new legislation, the government said its purpose is to ensure Mississauga, Brampton and Caledon "have the tools and autonomy they need to deliver on local priorities, including the ambitious housing pledges they have agreed to."
Mississauga and Brampton have committed to more than quadrupling and tripling housing starts by 2031, respectively, when compared to their 2013 to 2022 averages.
The board will also monitor any financial or contractual moves made by local governments in the years leading up to dissolution, officials said. It will have authority to "make directions" to prevent any decisions that could complicate the long-term restructuring process, one official said, without elaborating further.
The board will analyze and provide recommendations on:
Labour relations issues.
Regional by-laws and the disentanglement of regional services.
Regional and lower-tier finances and their financial sustainability.
Potential new property tax arrangements.
The future of regional boards and commissions.
Those recommendations are expected in the summer or fall of 2024. Another piece of legislation will be tabled in the fall of 2024 to address any outstanding matters with the dissolution, officials said. 
Under the proposed legislation, the transition board will be "wound down" on Jan. 31, 2025.
Peel Region was created in 1974 by the government of former premier Bill Davis. The region is responsible for services such as police, paramedics, wastewater treatment, health programs and recycling.
With files from Lorenda Reddekopp, Lucas Powers and Lane Harrison